Sara Pazell from the University of Queensland, Australia and Husam Muslim from the University of Tsukuba, Japan are runner-ups for the 2018 Dieter W. Jahns Student Practitioner Award.  Competition for the 2018 Award was close.  As a result, there were two runner-ups:  Sara Pazell for Good Work Design - Strategies to Embed Human‐Centred Design in Organisations; and Husam Muslim for Human Factors Issues Associated with Automation Interventions in Safety-critical Situations during a Lane-change. 
Sara's advisor was Prof. Robin Burgess‐Limerick. Click here for an abstract of Sara's project.  Husam's Advisor was Prof. Makoto Itoh.  Click here for an abstract of Husam's project.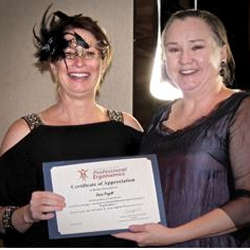 Sara Pazell receives her certificate from Prof. Margaret Cook, President of the Human Factors and Ergonomics Society of Australia at the HFESA 2018 annual conference.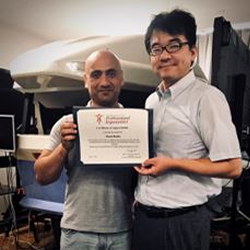 Husam Muslim receives his certificate from his advisor on the project, Prof. Makoto Itoh in the university simulation lab.
---
There were submissions by students from six countries:  Australia, Canada, Germany, Japan, Portugal, and the US. 

Other projects of note include:
Umair Rehman:  Augmented Reality for Indoor Navigation and Task Guidance: A Human Factors Evaluation
University of Waterloo
Advisor:  Dr. Shi Cao
Click here for a write-up of Umair's project.
Barbara Cardoso and Ana Pina:  Computer Visual Syndrome – Prevalence, Causes, and Prevention
Health and Environment Research Center, School of Heath of the Polythecnic Institute of Porto, Portugal
Advisor:  Prof. Matilde A. Rodrigues
Click here for a write-up of Barbara's and Ana's project.
Arian Iraqi:  Prediction of the Available Coefficient of Friction (ACOF) Based on Footwear Outsole Design Features
Department of Bioengineering, University of Pittsburgh
Advisor: Prof. Kurt E. Beschorner
Daedriana Harvey and Katie Grashof:  Lazy Dresser
Maryland Institute College of Art 
Advisor:  Prof. Howard Eaton, John Hopkins University Research Lab
Sherisse M. Pierre:  The Effects of Laser Eye Protection on Color Recognition and Discrimination 
Florida Institute of Technology 
Advisor:  Prof. Deborah Carstens
Ceyda Dundar:  A Human-Centered Approach to Hazard Evaluation Checklists for the Risk of Back Pain in Manual Handling Tasks
Old Dominion University
Advisor:  Prof. James Bliss 
Bailey Herbstreit:  Participatory Design: Tool for User Experience Assessment; and
Spatial Programming; Seat & Firewall Design for Cornell Racing FSAE 
Cornell University 
Advisor:  Prof. Se-Yeon Yoon
Click here for a write-up of Bailey's Participatory Design project.
Click here for a write-up of Bailey's Spatial Programming project.